Included concern Hyundai Motor Group, South Korean companies Hyundai and Kia will be the first car manufacturer to use the Android operating system in developing its own in-car infotainment systems.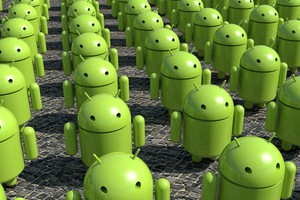 Hyundai and Kia are preparing to equip their car entertainment system on Android / android.com
CNews reports with reference to the South Korean edition ETnews, which notes that there is still multimedia complexes auto manufacturers based on the company's software.
According to the publication, in Android-infoteymentah (a way of presenting information with a touch of entertaining – Ed.), which will release a Hyundai and Kia, will also appear telematics functionality that allows to remotely control the vehicle via a mobile device. The relationship between the gadget and the car will be built on the technology of Wi-Fi or cellular connection.
ETnews emphasizes that the first Android navigation in the environment will be available on the updated models of Hyundai Genesis and Kia Soul, which will be released before the end of 2013. The following year, this option will appear in all new cars of concern. It is unknown whether the new system installed in the database, or have to pay extra for them.
When connected to the navigation system on your Android smartphone on the same platform some of its functions can be controlled via a display inside the cabin, adding the South Korean edition. According to him, on-board auto receive some support services Google.
Note that Kia vehicles are equipped with modern infotainment systems Uvo, which provide speech recognition technology and the ability to connect to the internet via a smartphone. At the same time, Hyndai similar complex called Bluelink. It can provide remote start car and engine shut-down via SMS-messages.
should add that earlier operating system manufacturers are interested in their integration into the system of automobiles. So, in June of this year, Apple has shown the technology iOS in the Car, which allows to connect the iPhone and iPad with automotive entertainment systems.
should also return to the developers of the operating system Android – corporation Google. Note that it already has experience of working with the world's auto companies: in August this year, the media reported that the German carmaker Volkswagen AG and Google have developed a mobile application for motorists SmileDrive. It was emphasized that in fact the company offered to motorists social network.