Laboratory of the U.S. Air Force and the Draper Laboratory in Kmebridzhe engaged in the creation of a joint special supplement for smartphones, where the soldiers on the ground will be able to request air support and air strikes on enemy targets.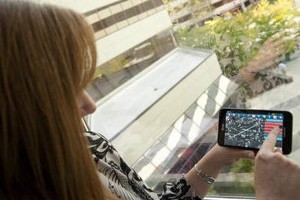 Soldiers will be easier to call the support / Draper Laboratory
According to Defense News, an application has been called Android Terminal Assault Kit (ATAK).Thanks to the new design
fighters can point to map the position of the enemy, finding the civil, friendly forces and possible departure from the position. After all of the information can be quickly sent to the operational centers or aircraft in the sky nearby. In Draper Laboratory are hoping that will ease the ATAK procedure call air support.
"It's one thing to sit at a desk in an office with air conditioning, switch between ten windows to cope with malfunctions of programs and expect to boot 60 seconds.'s quite another – to perform the same actions while under fire or jumping out of a plane. In this case, ATAK will be useful, "- explained Laura Major, head of the ATAK project in Draper Laboratory.
We point out that now the Army and the U.S. Marine Corps can use the radio and laptops to call air support, however, these tools require a lot of time to send data. Moreover, at night glowing laptop screens may indicate their positions.
ATAK, is expected to reduce the time required to transfer data to. Moreover, the luminous screen smartphone will be easier to hide in the dark.
The application will need a smartphone platform Android. According to Major, from the point of view of safety, this OS is more secure than, say, iOS. Moreover, she added, to develop software for Android easier.
add that in the beginning of October, Google executive Eric Schmidt said during an interview at the Gartner Symposium / ITxpo 2013 that the Android OS is more secure than iOS. This remark caused the audience laugh.