This robot is able to use the tools that are intended for human intervention. It is assumed that in the long term with the help of space will be carried out medical operations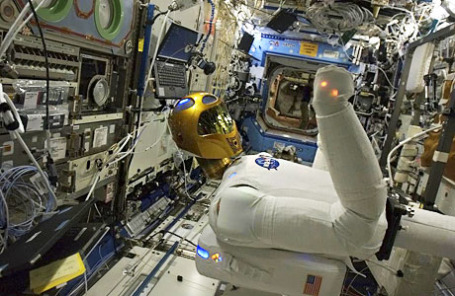 The first android astronaut to the ISS NASA declared the best invention of the past year. "Robonavt-2″ was born several years ago and forwarded to ISS in parts. Now the robot has four legs and is able to use instruments and tools for humans. As explained by the American space agency, the award was awarded to this invention, since "many technologies used in its creation, adapted for use in the world." See also: Chapter Roskomosa: "We were number one space power, and this has played a cruel joke»
Only in the last year "Robonavt" got a pair of mechanical legs and learned to walk, or rather, to move inside the orbital complex. Under the control of the operators in the world and some of the crew members, he began to move along the wall, holding onto the handrail using grips. After that, he began to help the crew of the station to perform simple work, which for people would be uninteresting and tedious. In particular, "Robonavt-2″ is able to check the operation of the air filter, for a long time holding "in the hands" meter. In addition, he tried to assume the role of cosmic physician spending on command from Earth ultrasound and a shot dummy.
«This demonstrates the possibility of" P-2 ", which in the future will allow for complex medical procedures in humans in remote areas on Earth or in space, "- said NASA. Experts believe that in terrestrial conditions may also be used such technologies "Robonavta-2″ as "roboperchatka" and "robokarkas." The first of these is to facilitate the work on the assembly line in large enterprises, and the second – to help sick people with limited movement.
The robot was developed by engineers Astronaut Space Center Johnson in Houston, Texas, in cooperation with the company General Motors. According to the plans of scientists someday he will be able to work on the exterior surface of the ISS, staying there for several days and releasing members of the expedition from dangerous spacewalks. But most likely, it will go to the representative of the next generation "robonavtov", which should be delivered to the station in the next year.