Print Bloggers

as advertising
Gadgets, services, applications need to save our time and effort. But it often happens that they also spend it shamelessly. Typically, this is due to the fact that we use the device on different operating systems. For example, the tablet on iOS (iPad), Android smartphone and computer in Windows. Each of them copes with its tasks, but always puts a spoke in the wheel competitor. The main difficulty arises when you put off your tablet and open the notebook, or vice versa, close the laptop and pulled out his smartphone. Synchronization of data and availability of services, which you have just used, remains a problem area for many users. Formally, the majority of applications and services support all platforms, but in fact, not always we get to work with them simply and properly comfort. Thinking about all this, you come to the sad conclusion that the company is still trying to fight for consumer attention at the expense of the consumer himself. That is, we are with you.
With this in mind, the staff of the Moscow office of Microsoft, Alexei Fedorov and Xenia Koshkin decided on the basis of personal experience to tell about a new approach to working with services on any device. In a nutshell, the situation is as follows: when a new CEO Microsoft Satya Nadella (Satya Nadella), which, by the way, this was mainly in the company's cloud technologies, the company aims to become a leader in the "mobility" and "cloud", offering users of services that will work perfectly on any devices and platforms. Check, so it's actually in favor of Sathya or marketing palter – a fascinating challenge for IT professional and simple user, tired of endlessly need to send documents by e-mail and passwords are confused on several cloud drives can not remember in what of them are stored desired photos.
What set?
Test services, we decided on a fairly widespread among users of a set of gadgets: the tablet iPad, Android smartphone and computer in Windows (about Microsoft services as work on the native platform, explain in the next article).
For all this family a huge range of services available – see for yourself.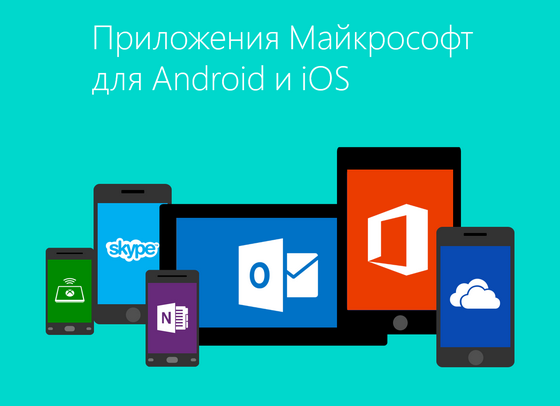 Agree impressive collection. All of these applications, except SmartGlass, in fact, available as a free web-based services. For iPhone app still has to shoot spherical, 360-degree panoramas Photosynth from Microsoft.
Account
Account in Microsoft one for everything. With it, you go to your computer with Windows 8, with her are authorized for all services and applications – from Outlook.com to Worldwide Telescope. You can create a new "uchetku" or to use the old, from the mailbox Hotmail.com, if you once wound up there mail. If she unpretentious type name shadylady22@hotmail.com, kissmedear13@hotmail.com, it can be easily changed (mail will be delivered in any case). Just go to your account settings and open the tab "Aliases". Create a new "uchetku" is relatively straightforward, and with it all the Microsoft services open to you on all your devices. However, the last statement we have yet to check.
Synchronizing data between devices through OneDrive
OneDrive – perhaps the most interesting and one of the most useful services Microsoft for Android and iOS! In Windows 8, it is part of the operating system and associated with an account on your computer. Something similar is on MacOS and iOS, but, unlike iCloud, OneDrive fully represented on other platforms, which is extremely facilitates our lives. 15 GB of space and fast automatic synchronization, as well as the ability to share any type of files and folders using the links and publications in the net – it's really good. Especially if you also are situations where urgently need access to any document created on the computer with Windows, but in the hands – iPad. Or you want to watch on your computer vacation photos made not on Android. When you install the application, you are also encouraged to include archiving images from the camera to the "cloud" – under it you get 3 additional gigabyte. Generally, we believe automatic synchronization very big plus OneDrive. Why? Because it is convenient.
life situations when OneDrive is useful – with the built-in application services Office. All documents created in it is automatically stored in the "cloud" and accessible from any location and any device with access to the network. You can sync and folders and individual files: documents, images and so on. Example – open your presentation on your smartphone when boarding a plane and calmly prepare for the speech or the right document. After a couple of hours and one tasteless lunch you fully armed and ready for landing in this vain world.
In the cloud, you can save data not only the usual documents Office, but several underrated, in our humble opinion, the service OneNote.
All notice and write in OneNote
Keeping notes – it initially seeming complicated if you are not a born writer or, in extreme cases, not graphomaniac. But once you do it – and it becomes a very useful habit (good habits – all of us!) Because saving notes when something "out of my head" and never returned.
Today OneNote – one of the best services to conduct, organize and synchronize your notes. In addition to text, you can store the data in any other formats (photos, audio, video), make lists, plans, routes, remember your favorite Internet pages and other.
One of our colleagues use OneNote for two things: making shopping lists and travel plans. Shopping lists in OneNote made simple – select option "list", and more filled with the desired fields – product names or relevant items from Duty Free, which ask people close. Already in the store you launch OneNote, open the list and go over it ticked to avoid confusion. C plans trip is different: pre-plan component in OneNote interesting places, cafes and anything else that you need to remember to make the trip, adding photos or images for clarity (look, for example, the cafe is a bit easier if you know what it looks like) .
Of course, you can not only make a shopping list, but a list of all those things which you need to think, to save their thoughts (if any – its), quotes, and other life wisdom. Try it – it's a real life-changer.
OneNote is available for free for all major platforms, including Windows PCs and Mac (it comes in and paid packages Microsoft Office – where the most functional version is available). Your notes synchronized between all these devices, you can share them with other people, for example, locking them together their ideas on some project.
Office
Well, there are among us readers who do not know what can Office from Microsoft? Pick up your mouse!
Until the moment that does not appear until the Office for Android and iOS, smartphone users had to search for alternative solutions, software options that can at least in some form to display documents. Sometimes formatting curves, sometimes with long loading text or a table with the impossibility of normal editing, but when there is nothing to choose, start looking for the minimum working version.
With the release of Office for mobile platforms world will never be the same as before. Finally, do not need to look for some third party software to comfortably work with documents. This is nothing strange, I guess. It's just logical that work with texts in. Doc and. Docx, spreadsheets and presentations someone is in Office, whether the program on your phone, computer or a web service.
Speaking of applications, the Office there are two types: Office Mobile – application for phones that combines all of the services and the individual Office applications Word, PowerPoint and Excel for tablets. The last option is currently available only for the iPad, but the company promises to please and soon Android tablet users.
Office Mobile is free, Office for iPad in the free version allows you to view documents, and to create and edit them, you need a subscription to Office 365. Judging by the comments in the App Store, not all, to put it mildly pleased with this. Here, for example, writes Rahmatka: «Developers generally insolent! For that kind of money to pay? Useless app! Work is not possible! "Or here AvestaZ:« Happen, businessmen x ** ". Spelling and punctuation, as usual saved (by the way, and that, in the App Store have no moderation?).
Well. In fact, the subscription is not so expensive and gives you a lot of opportunities. So, for 199 rubles per month (or 1999 rubles a year), you can use Office on a single computer (whether, Windows or Mac) and on the same plate and in addition get a 1 terabyte in OneDrive! Very good for the money! Our colleagues have two computers, so it fits more advanced package. In it for 249 rubles (2490 per year), you can put as much as Office five computers and five tablets. If you have not got to ten, safely tie "uchetki" friends and relatives to their applications and share with them. So, we do not quite agree with the hysteria that broke out in the App Store. Oops, there to pay for that. And by the way, Office for iPad already downloaded 27 million times!
If we talk about functional, then there is everything you expect. Texts are available for formatting, color change, and the creation of illuminated marker fragments. In addition, any text area, whether a word or a paragraph, you can add your own note. For us, this opportunity was very convenient when editing do not need a lot of typing, and you can even do it on your phone by simply adding to the raw material your comments. For spreadsheets and presentations also has all the necessary features: formula, filters, adding pictures, and so on and so on.
colleague Tom himself most liked two functions: total integration with mail and OneDrive Outlook.com, and as joint work with documents. In the first case at the entrance of Office, you can immediately see all the documents you recently worked, no matter what device. If you stored them in OneDrive, then they have all the latest changes. When his regime leap from phone to laptop and tablet that was very comfortable. And the second – you can simultaneously write and edit a document together with friends or co-workers.
Design Web version of Office with the most similar application interface for Windows, so if you go on the web, no discomfort from the new version "office" will not. Besides, on the iPad it is made more in the style of iOS7. Trifle, but friendly.
Outlook.com
In fact, "new wave" of cross-platform capabilities are accessible through Microsoft, began much earlier than Nadella Microsoft announced its intention to provide services users of all devices. And she just started with Outlook.com (then still Hotmail.com). Microsoft has completely overhauled its extremely popular in North America and some other countries, but somewhat outdated post, and voila! Today Outlook.com – great postal service, which perfectly fighting spam, including the web version of Skype, supports the integration of social networks, and moreover, does not scan emails users for targeted advertising. If someone does not know – look online videos about a guy named Gmail Man.
Besides, today Outlook.com has all the usual functions of email, calendar and contacts, as well as message encryption. App for Android and iOS holds fresh style Microsoft, which pleases concise and great fonts.
If you like it, redirect mail from all other accounts will not be difficult, but if not, then mail to Outlook.com should get at least the address for "uchetki" of which we have already managed to talk. By the way, there's still a lot of beautiful free addresses, and you can manage to register the address of the form firstname.lastname @ outlook.com, which many other services do not.
SmartGlass
Well, And finally, we left pretty app – SmartGlass for Xbox. If the combination of Master Chief you tremble every fiber of the soul (and you know that it is not Gordon Ramsay) and home Xbox – center of the universe, it is useful to you exactly. In fact, SmartGlass – it's such a second screen for the console, which complements your games, movies and console itself. It is best, of course, working in the U.S., where there Xbox Music and Xbox Video, there when watching "Game of Thrones" on Xbox, you can study the details of the episode on your phone or tablet. In Russia, the main functionality – use your smartphone or tablet to control the Xbox (they act as a controller, remote control and are used to enter text. SmartGlass Russian users also available additional content for games – for example, Halo 4 and Forza.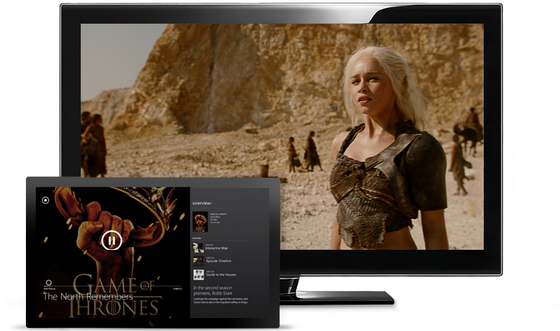 Conclusion
We know that many readers enjoy mobile-review.com functionality similar solutions from other companies. And we're not going to criticize them. solutions from other manufacturers can also be good, but we have described the beauty services that they cross-platform and friendly. This perfectly fit into the daily life of a person working with the information (for example, IT journalist), consisting of mail, documents, photos, bars, press conferences, exhibitions and soaked in the pools phones.
If you create a new service for you – it is a heavy and very heavy task, then listen to our advice. Start with the simple – lift your finger lazily poke them in the app or Google Play App Store, then lift it a few more times, typing in the search «OneDrive». Enable automatic synchronization of your photos and commercials somewhere about two months to look at the other OneDrive your device or even on the Internet. If you view your photos will cause a feeling of tenderness, joy and love, then take the next step – OneNote, Outlook.com, Office and maybe even SmartGlass.
Posted – 21 July 2014 .
us in social networks :
blog comments powered by
News:
19:18, July 21: A new powerful camera phone Sony Xperia Z3 X on the photo
18:47, July 21: In the Tele2 network increased share of smart phones
17:48, July 21: Gionee GN9006 – Smartphone 5 mm
17:32, July 21: The European Union does not consider the game to be purchased in the app for free
17:19, July 21: Google Now launcher will be a major smartphone ZTE
17:14, July 21: Went 9 Navitel Navigator for Android with cloud data store
16:37, July 21: Photo successor Motorola Moto G already online
16:01, July 21: Prestigio has introduced a series of smartphones Windows Family
15:03, July 21: MTS Opera Software opened and unlimited access to mobile applications
15:00, July 21: "MTS Ukraine" lowers the price to 35 cents bezlimita day in tariffs line "Smartphone»
14: 39, July 21: Fly EVO Chic 3 – Android smartphone with a 4.7-inch qHD display and 8 megapixel camera
13:30, July 21: A new bright headphones Oklick Soul
12:41, July 21: New PROMT Offline for iOS with additional languages ??and functions
12:23, July 21: "Beeline" has launched a 4G network in the Samara region
11:57 July 21: Huawei announced operating results for the 1st half of 2014
11:49, July 21: J'son & Partners Consulting: Review of the Russian e-commerce market – online sales in 2013
10:12, July 21: Sue Wagner joined the board of directors of Apple
09:40, 21 July: Video channel: DECT-phone Panasonic with WiFi and receiving calls on smartphones Overview GioNee Elife S5.5 and BlackBerry Z3
16:42, July 18: "Beeline" create a comfortable space for web- corporate clients
15:47, July 18: Fly ERA Life 4 – inexpensive smartphone with 4-core processor
Subscription