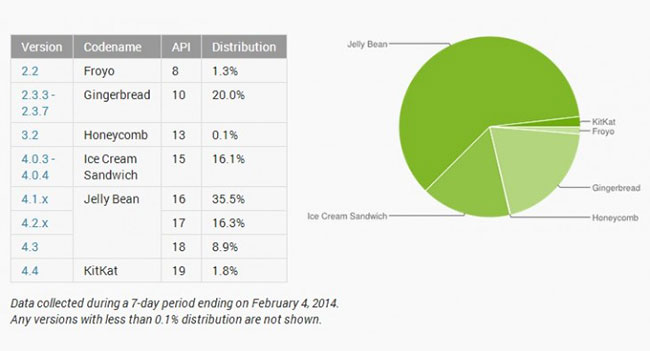 Mobile operating system Android 4.4 KitKat was introduced in October 2013. Thus, it is present on the market for three full months. While its share of the market remains extremely low – only 1.8%. Compared to the previous month growth was 0.4 percentage points.
most common still remains version Android 4.1 Jelly Bean, accounting for 35.5% of the market. Followed by modification of the OS Android 2.3.3-2.3.7 Gingerbread with the index 20.0%. Closes the top three version Android 4.0 Ice Cream Sandwich, it accounts for about 16.1% of the devices. It should be noted that over the past month, all versions of the three leaders lost ground slightly.
Increase your market share (approximately 1 percentage point) over the past month could OS Android 4.2 Jelly Bean to 16.3% and Android 4.3 Jelly Bean – to 8.9% market share.
Smaller market shares than KitKat, have only a version of the operating system Android 2.2 Froyo and Android 3.2 Honeycomb. They are set on 1.3% and 0.1% of mobile devices, respectively. Over the past month, their share has not changed.